Презентация по английскому языку на тему "Праздники Великобритании" (5-7 классы)
Презентация на английском языке о наиболее популярных праздниках в Великобритании: Рождество, Новый год, Пасха, Хэллоуин и День Святого Валентина. Презентация состоит из 10 слайдов, написана доступным для понимания языком. Будет полезна и интересна школьникам 5-7 классов при ознакомлении с данной темой.
ПРАЗДНИКИ ВЕЛИКОБРИТАНИИ мои.ppt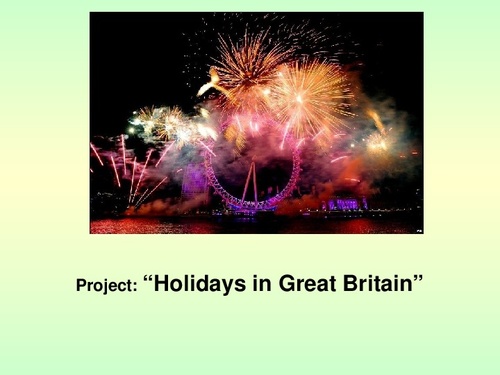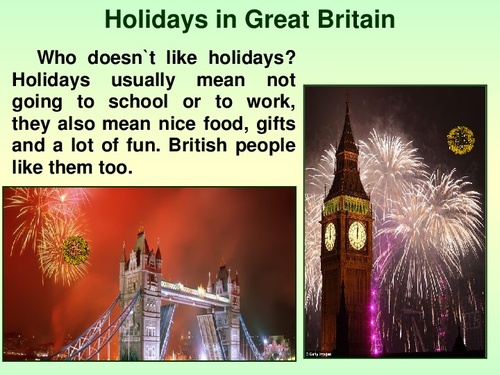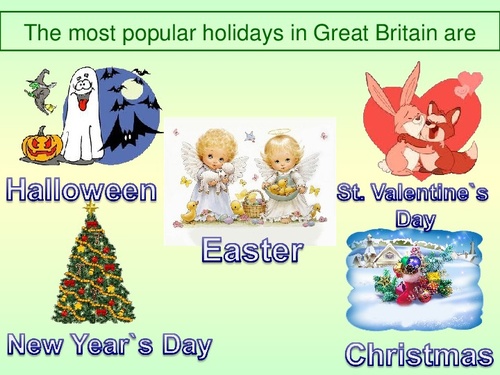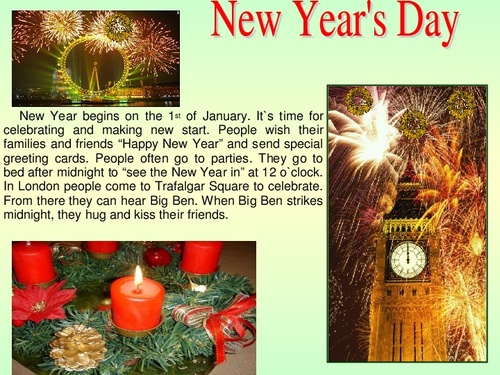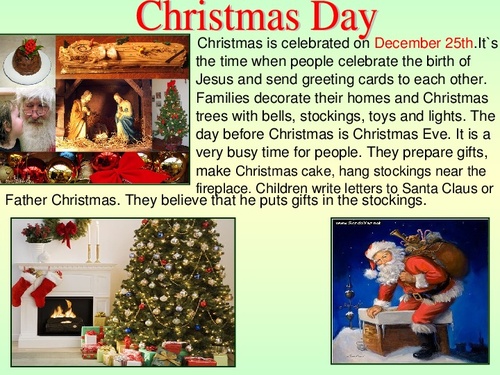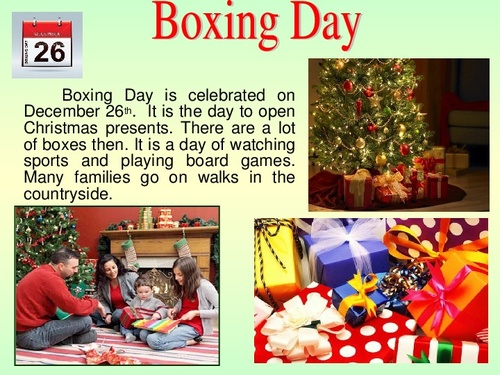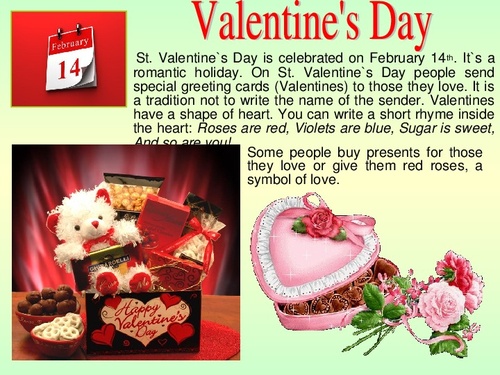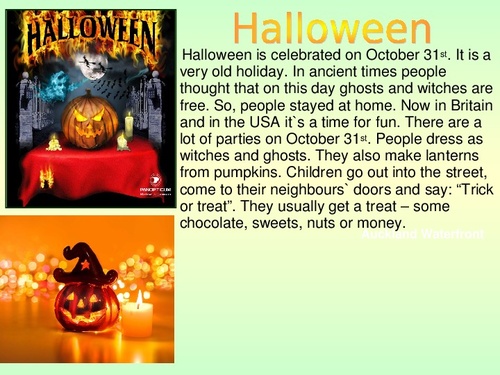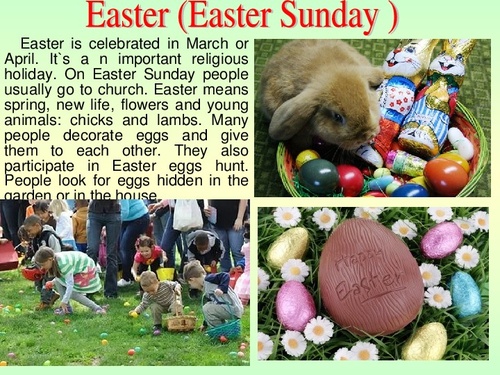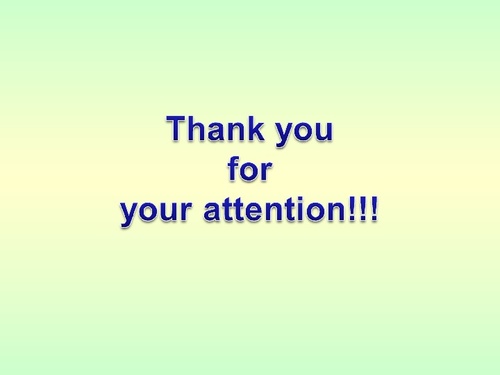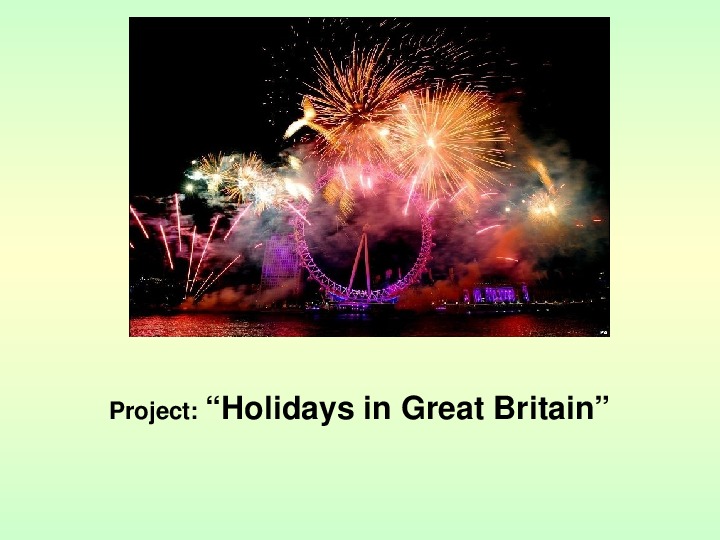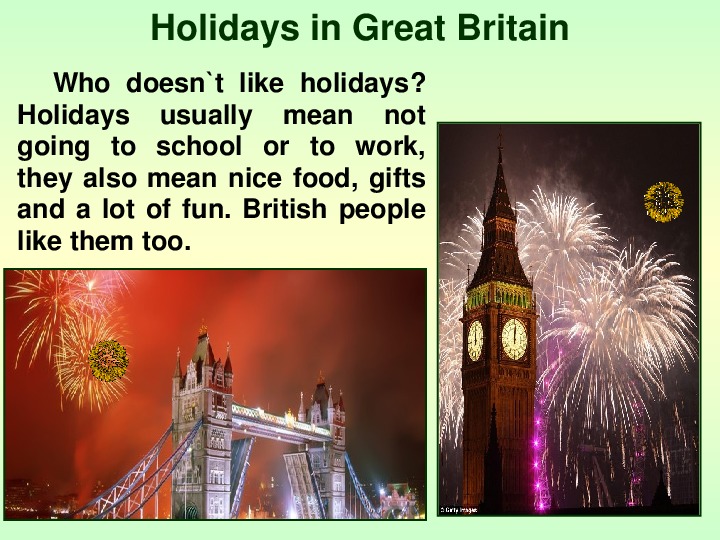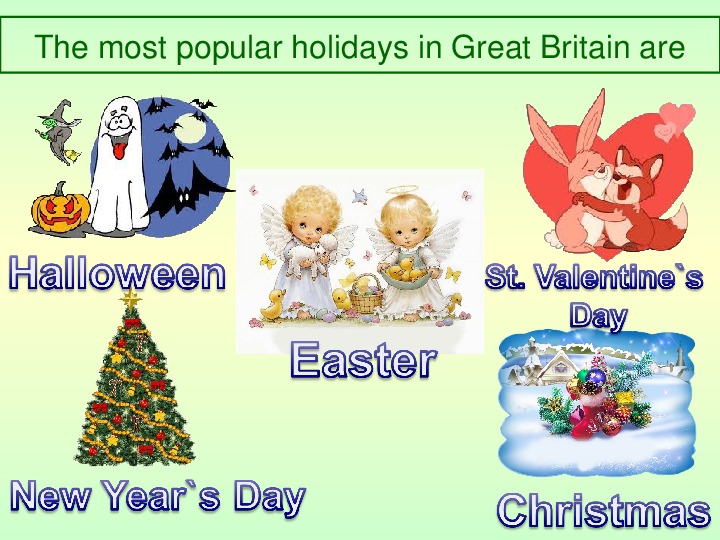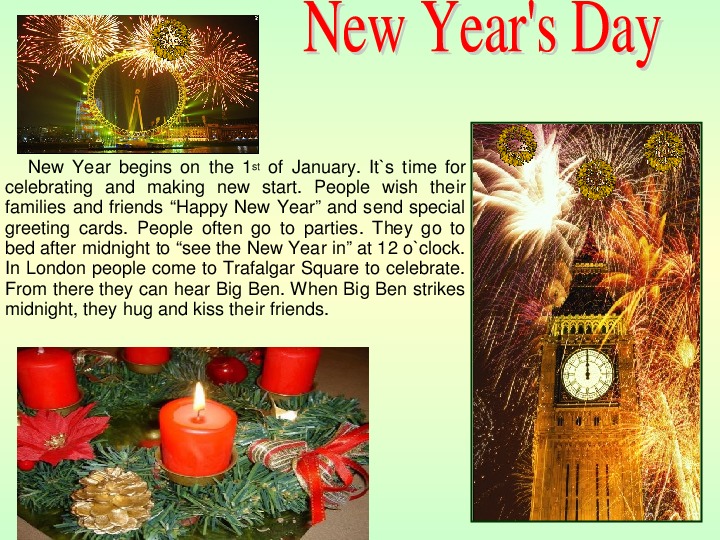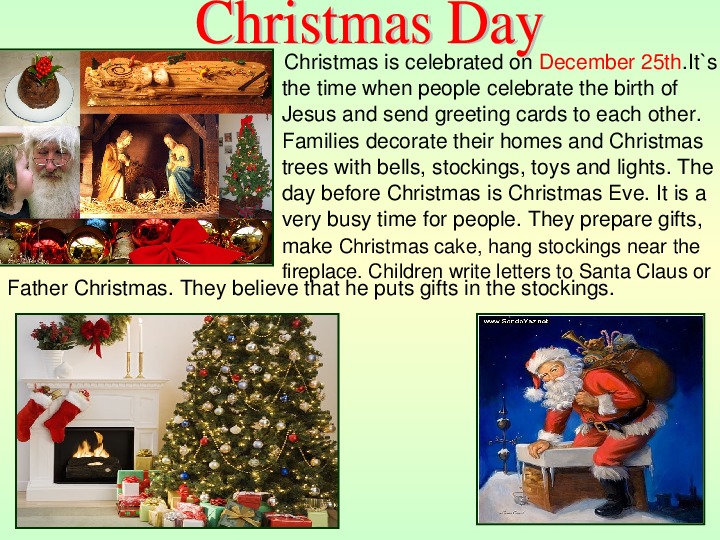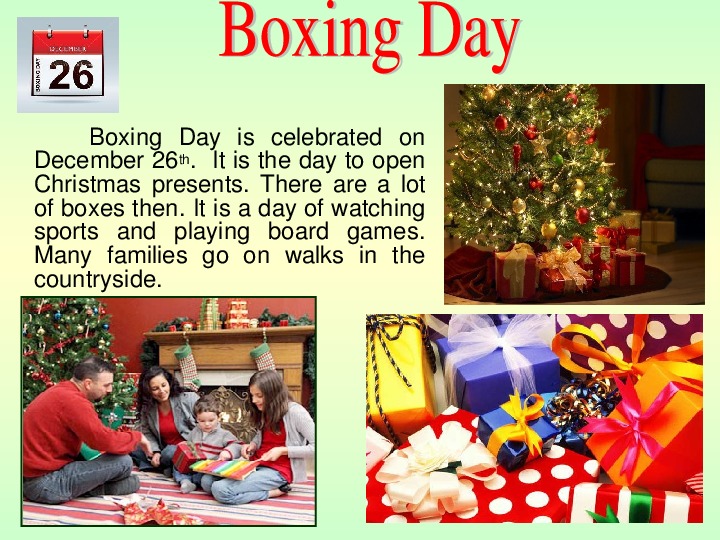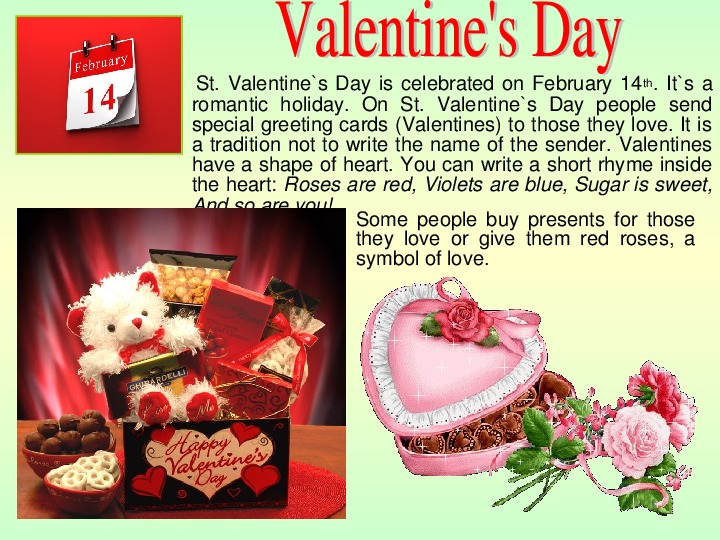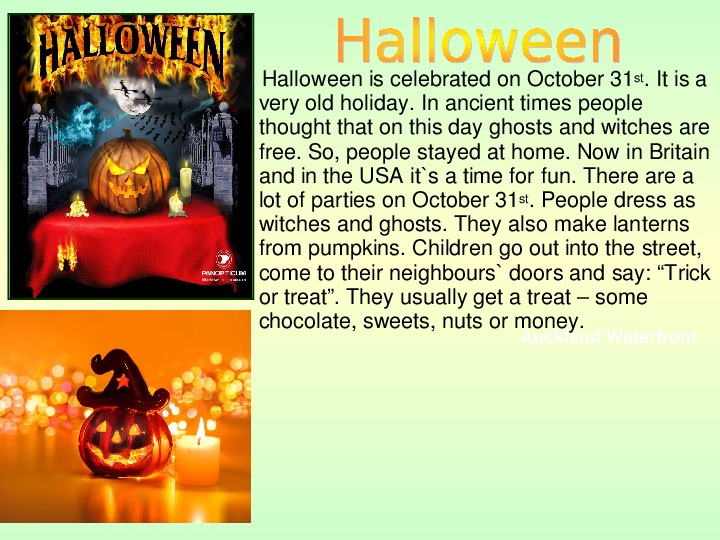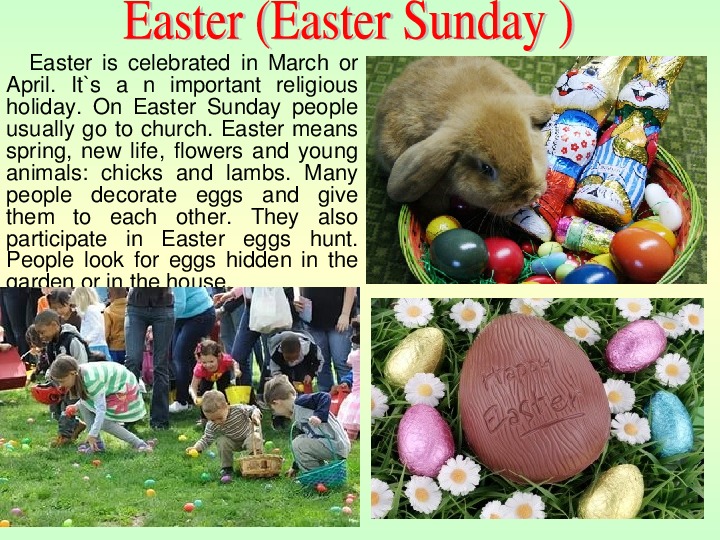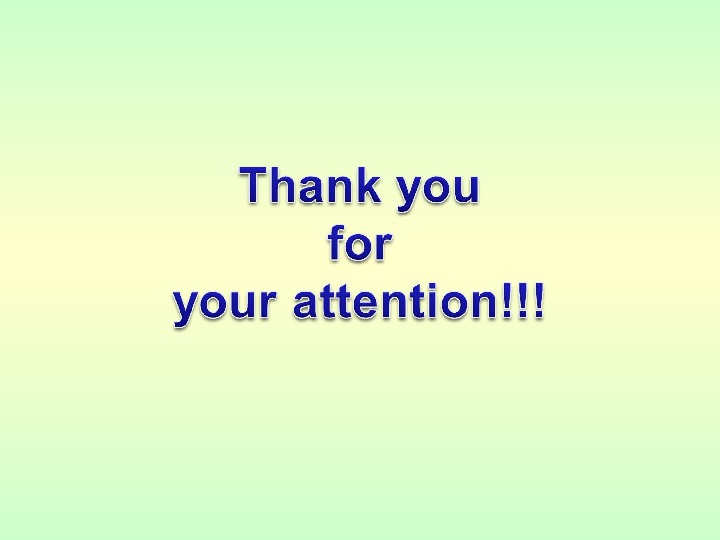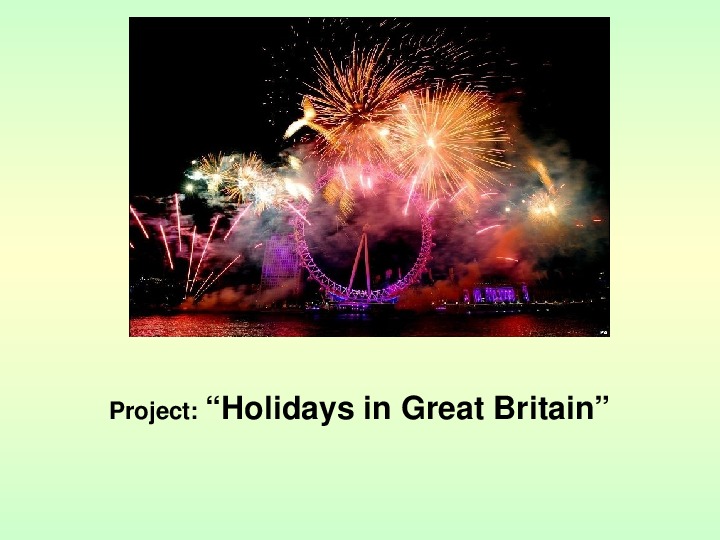 Project: "Holidays in Great Britain"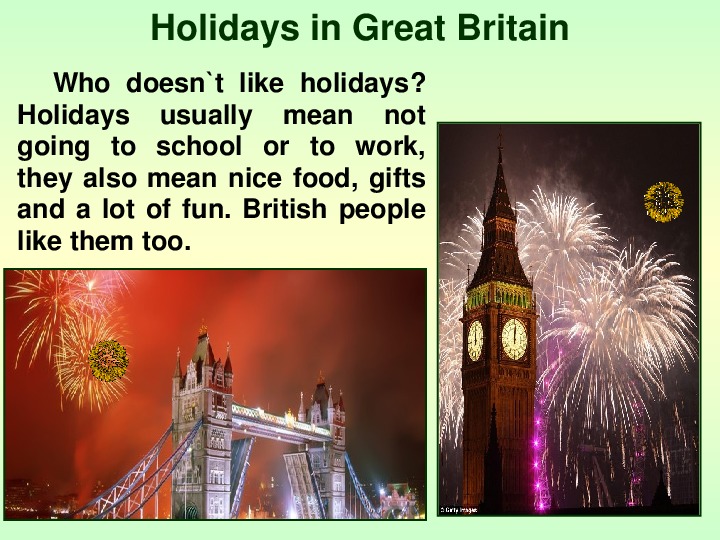 Holidays in Great Britain Who doesn`t like holidays? Holidays usually mean not going to school or to work, they also mean nice food, gifts and a lot of fun. British people like them too.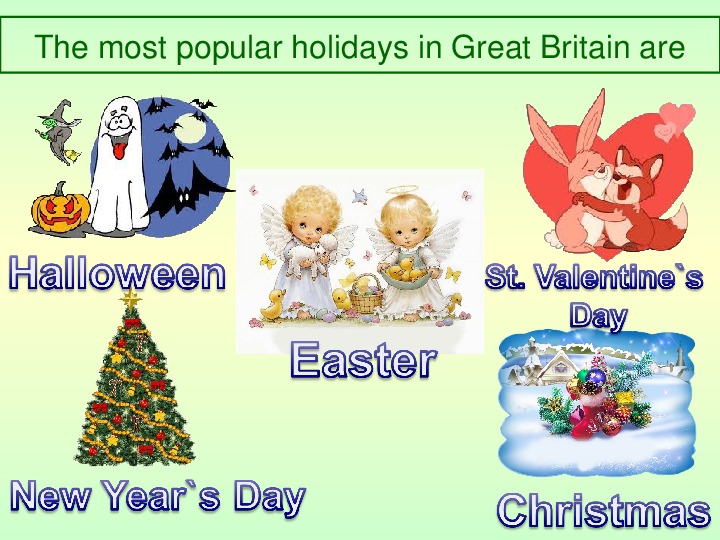 The most popular holidays in Great Britain are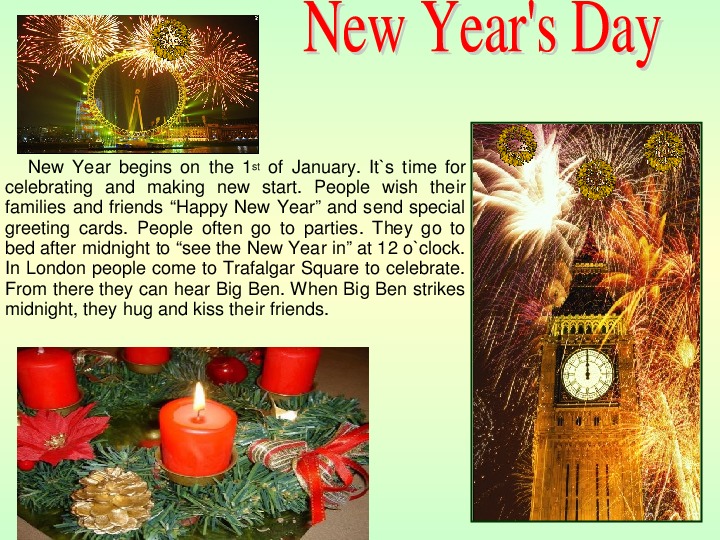 New Year begins on the 1st of January. It`s time for celebrating and making new start. People wish their families and friends "Happy New Year" and send special greeting cards. People often go to parties. They go to bed after midnight to "see the New Year in" at 12 o`clock. In London people come to Trafalgar Square to celebrate. From there they can hear Big Ben. When Big Ben strikes midnight, they hug and kiss their friends.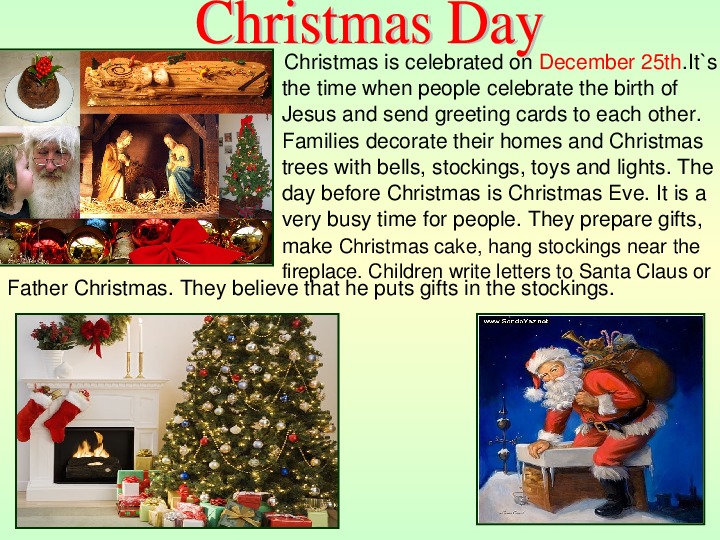 Christmas is celebrated on December 25th.It`s the time when people celebrate the birth of Jesus and send greeting cards to each other. Families decorate their homes and Christmas trees with bells, stockings, toys and lights. The day before Christmas is Christmas Eve. It is a very busy time for people. They prepare gifts, make Christmas cake, hang stockings near the fireplace. Children write letters to Santa Claus or Father Christmas. They believe that he puts gifts in the stockings.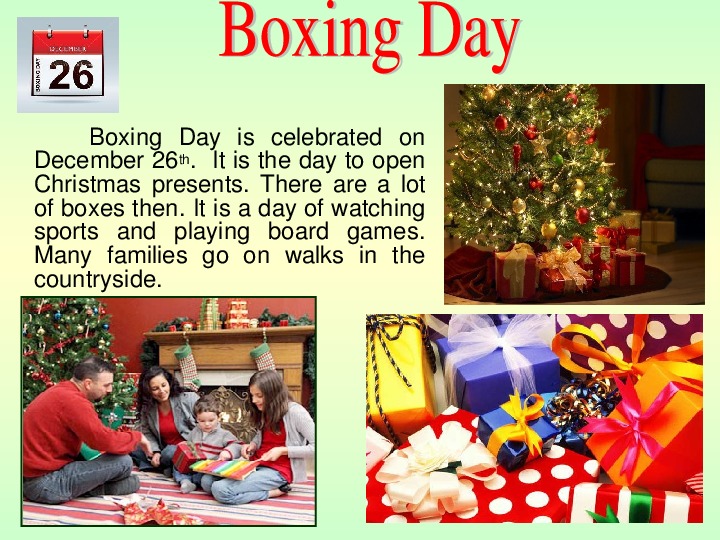 Boxing Day is celebrated on December 26th. It is the day to open Christmas presents. There are a lot of boxes then. It is a day of watching sports and playing board games. Many families go on walks in the countryside.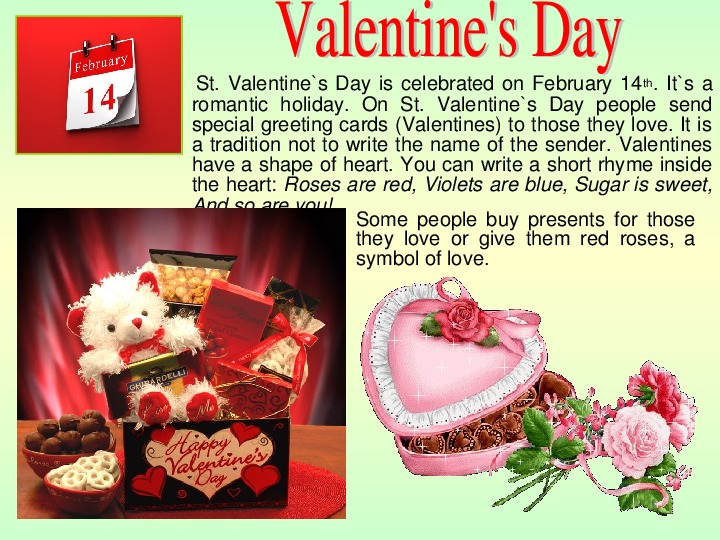 St. Valentine`s Day is celebrated on February 14th. It`s a romantic holiday. On St. Valentine`s Day people send special greeting cards (Valentines) to those they love. It is a tradition not to write the name of the sender. Valentines have a shape of heart. You can write a short rhyme inside the heart: Roses are red, Violets are blue, Sugar is sweet, And so are you! Some people buy presents for those they love or give them red roses, a symbol of love.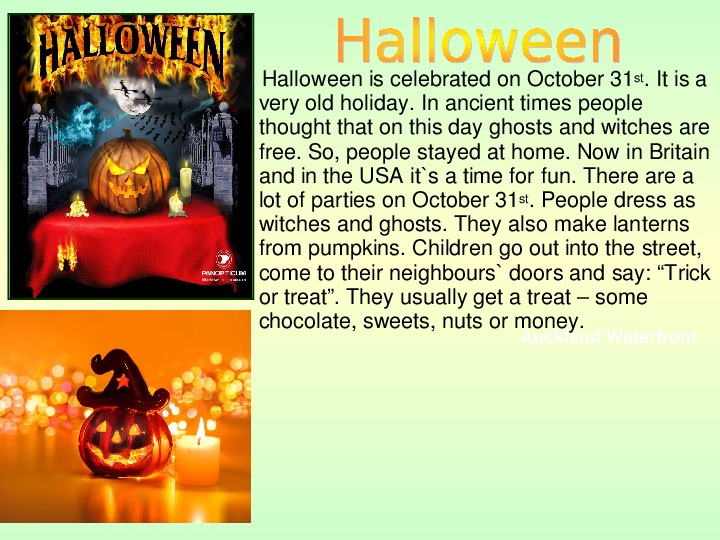 Halloween is celebrated on October 31st. It is a very old holiday. In ancient times people thought that on this day ghosts and witches are free. So, people stayed at home. Now in Britain and in the USA it`s a time for fun. There are a lot of parties on October 31st. People dress as witches and ghosts. They also make lanterns from pumpkins. Children go out into the street, come to their neighbours` doors and say: "Trick or treat". They usually get a treat – some chocolate, sweets, nuts or money. Auckland Waterfront Skyline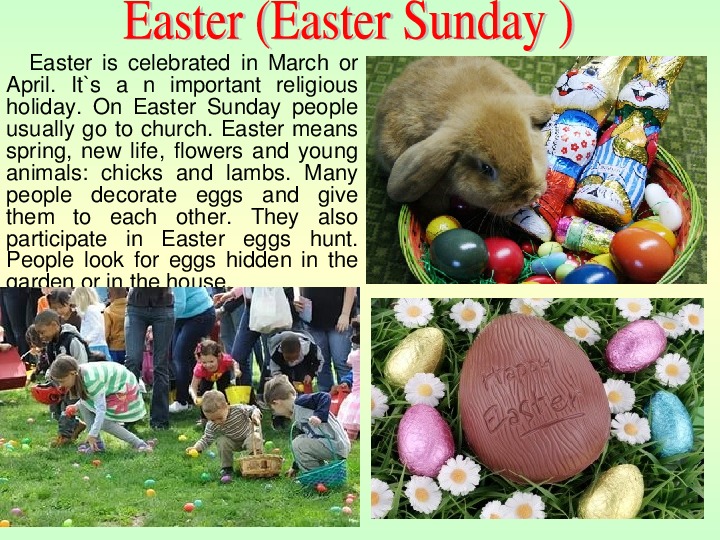 Easter is celebrated in March or April. It`s a n important religious holiday. On Easter Sunday people usually go to church. Easter means spring, new life, flowers and young animals: chicks and lambs. Many people decorate eggs and give them to each other. They also participate in Easter eggs hunt. People look for eggs hidden in the garden or in the house.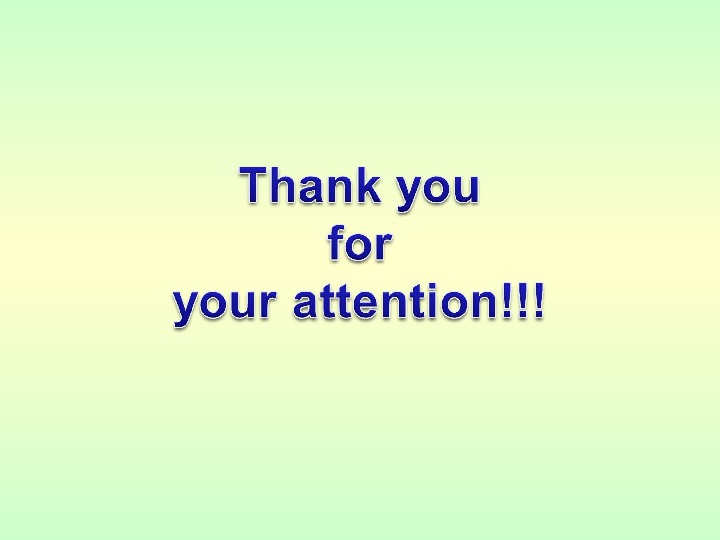 Публикация обрабатывается. Зайдите на страницу позже.